Media Atelier Delfshaven
Media Atelier Delfshaven
De plek voor Jong & Oud Delfshavenaren om je kennis en vaardigheden binnen de wereld van media te verbeteren. Ook indeze tijden van Corona organiseren wij weer (al dan niet online) cursussen die jouw gaan helpen om je talenten te ontdekken, ontwikkelen en te uiten. 
Media-technologie wordt steeds belangrijker. Sociale media vormen de basis voor effectieve communicatie, ook om jouw buurtgenoten te bereiken. Daarbij is Nieuwe media een manier om jezelf creatief te ontwikkelen en te profileren. In de MAD-cursussen worden tips en tricks aangereikt, hoe je de bestaande sociale media (effectiever) kunt inzetten. MAD enthousiasmeert, coacht, onderwijst en faciliteert enthousiaste Delfshavenaren, wijkorganisaties en startende ondernemers om zo de sociale infrastructuur van Delfshaven te versterken. Dit voorjaar  starten bij het Media Atelier weer nieuwe cursussen in het kader van MAD-cursus. Voor kids en jongeren; De Gameclub. Voor volwassenen; Online course Web design with WordPress (English).
MAD ontwikkelt zich momenteel tot de opleidingsplek, werkplaats en inspiratieplatform voor media-technologie en communicatie van Delfshaven. MAD richt zich op alle in Delfshaven actieve bewonersinitiatieven, maar is er ook voor startende ondernemers en alle andere Delfshavenaren die hun media-skills willen verbeteren.
Make your own website with WordPress at MAD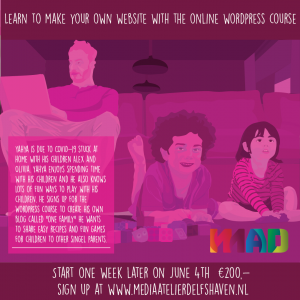 7 x 2 hour lessons by video on Thursdays
Dates: from June 4th until July 16th
20:00 – 22:00
Start: Thursday, May 28th
Teacher: Nils Hilbers
Method: live video-chat (Google Hangouts or Zoom)
WordPress is the world's most popular open-source content management system. That's a fancy way of saying that it allows you to quickly create a website online in just 2 months. More info about WordPress? Just visit https://wordpress.org/. We recommend using self-hosted WordPress.org because it gives you access to all the WordPress features out of the box. So do not register with WordPress.com because that way you will have fewer features and the website will be on a web server owned by WordPress.com. The WordPress software is free, but you will need web hosting for the software. To get really technical your hosting must have a database for WordPress. You will also need to choose your domain. Don't worry, a lot of web hosters offer a special package deal for WordPress that include everything you need because a lot of people want to start with a WordPress website.
What do you need for this course?
1. You need a computer with an internet connection and a browser. (no tablets!)
2. You need a working internet connection to use video chat. (microphone & sound)
3. Free time on Thursday evening
4. You don't need to have any coding or programming skills.
What will you learn?
1. Learn how to install and set up a WordPress website
2. Learn how to create, edit and manage content in WordPress
3. Learn how to change & use WordPress themes
4. Learn how to use plugins, and what the best plugins are!
5. How to search engine optimize (SEO) WordPress (basic)
6. Add multiple images, embed videos and sound files to your website
7. How to create and add contact forms to your WordPress site
8. How to edit and create navigation menus
9. Learn how to make a portfolio or a blog
10. Learn how to translate your WordPress website to different languages (basic)
11. Give examples of how you can make a webshop (basic)
This course is a course for ambitious people who want to present themselves (or their business) online in a good way. We will build a website together during this course so that you will have a website online after the 8 lessons.
From your web hoster you will need:
1. A domain (that is the website address that users will type to visit your website.
2. A webserver (where all your website files will be stored).
3. A database for WordPress
Three examples of good web hosters are:
1. https://www.ictunited.nl ICT United  (Costs from € 42,- a year) send an email to: info@ictunited.nl and tell them that you are doing this WordPress course with teacher: Nils Hilbers
2. https://www.bluehost.com/wordpress/wordpress-hosting (Basic)
3. https://www.one.com/en/wordpress-hosting (Enthusiast)
It is possible to install WordPress in the first lesson
Do not worry, if getting the right web hoster is too difficult, please contact us and Nils Hilbers will help you.  If your web hoster has not installed WordPress already, we will install WordPress on your own web server in the first lesson (May 28th) and start building your website together as quickly as possible.
Weet jij actieve bewoners(initiatieven) ondernemers of enthousiaste particulieren, die hier hun voordeel mee kunnen doen? Deel dit aanbod in jouw netwerk en/of meld jezelf of jouw wijkinitiatief aan, via mediaatelierdelfshaven@gmail.com
Direct aanmelden, via; www.mediaatelierdelfshaven.nl